What we offer
PRODUCTS
Client adapted Saas for Management, BI and Operations tools.
These tools and reports range from simple dashboards that display information like KPIs, trends and financials, to more dynamic tools that can interconnect client internal systems to make executing actions as easy as using a dashboard for the end user. Our end goal is always to support decisions making or to suggest direct actions that leads to improved bottom line results. The key to success is combining a great commercial understanding with state-of-the-art tech stack support.
Our products are used by CXX, managers, analysts and other team members across different departments.
ADVISING
Elevate your success in the gambling, gaming, finance and other industries with expert advice from our experienced team.
Our tailored approach, deep industry knowledge and experience insights help you reach your goals and stay ahead of the competition.
Partner with us for a brighter future in the world of gambling and finance.
CLOUD INFRASTRUCTURE
At MIM Group, we primarily use Amazon Web Services (AWS) for our internal infrastructure and for delivering robust solutions to our clients.
We have chosen AWS as the leading cloud provider due to its comprehensive array of services which we can tailor for each client, the scalability possibilities, and cost-effective pricing.
Our core competency lies in providing comprehensive data services, including big data storage, data lake/warehouse organization, data processing and ingestion, as well as real-time data analysis.
BUSINESS INTELLIGENCE
Data-driven decision making is at the core of any fast growing company.
We are an experienced group of specialists who can help you transition your data-rich company into one which uses data to its competitive advantage.
MIM Group has over 30 years of expertise in BI solution implementation in such verticals as Gambling, Media & Entertainment, Retail & Logistic, Finance and Insurance markets.
Our Skills
Knowledge & Experience
Gambling
With 30 years of collective experience at the forefront of leading Live Casino providers, MIM Group possesses a distinctive expertise and knowledge base.
Our innovative approach to industry challenges sets us apart from the rest, and our robust technology stack is designed to address the complex data requirements of gambling companies.
Our focus on delivering positive outcomes with a strong emphasis on high margin results ensures satisfied shareholders and a competitive edge in the market.
Tableau Expertise
Server
We have expertise and skills in maintaining Tableau Server. This requires a thorough understanding of the Tableau Server architecture and its components, including the Tableau Server database, repository, and application.
This expertise also entails proficiency in server administration tasks such as managing security, user authentication, data source management, and performance optimization.
Additionally, possessing a strong background in SQL, network administration, and data analytics greatly enhances our ability to maintain and troubleshoot Tableau Server effectively.

Dashboards
Our experts are proficient in designing, developing, and deploying interactive and visually appealing dashboards that effectively communicate complex data insights.
By leveraging the latest Tableau features and best practices, we create dashboards that not only inform, but also drive business decision-making.
Whether it's real-time monitoring, data exploration, or advanced analytics, MIM Group has the skills to deliver high-quality Tableau dashboards that meet your organization's specific needs.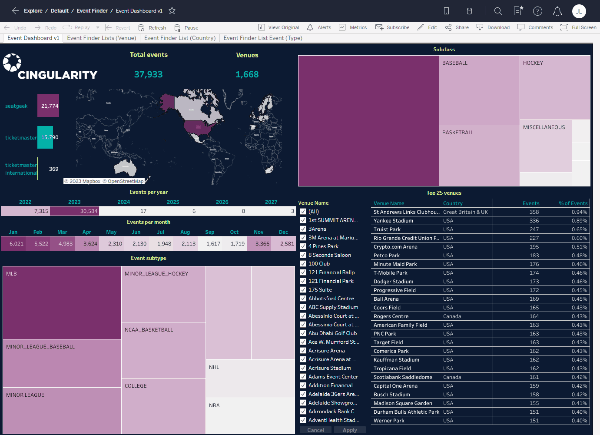 Data Prep
We leverage multiple data sources by utilizing custom scripts for data cleansing, modification, and enhancement.
The data preparation phase entails comprehensive validation and verification processes.
Based on the volume of data, we generate data extracts through the use of Hyper API technology.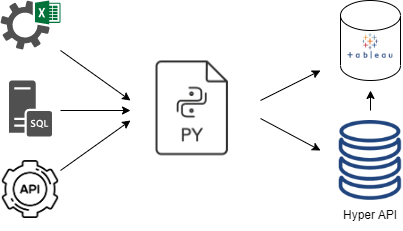 Pymail
Our team has extensive skills and experience in utilizing Tableau REST API, Hyper API, and Repository database. Our proficiency in the Tableau REST API enables us to integrate Tableau with other systems, automate workflows, and streamline processes.
Our expertise in the Hyper API allows us to optimize performance and scalability in Tableau workbooks, delivering fast and accurate data analysis.
With experience in the Repository database, we can manage, organize, and access Tableau assets in a centralized and secure manner, ensuring effective collaboration and data governance, making us well-equipped to handle all of your Tableau needs.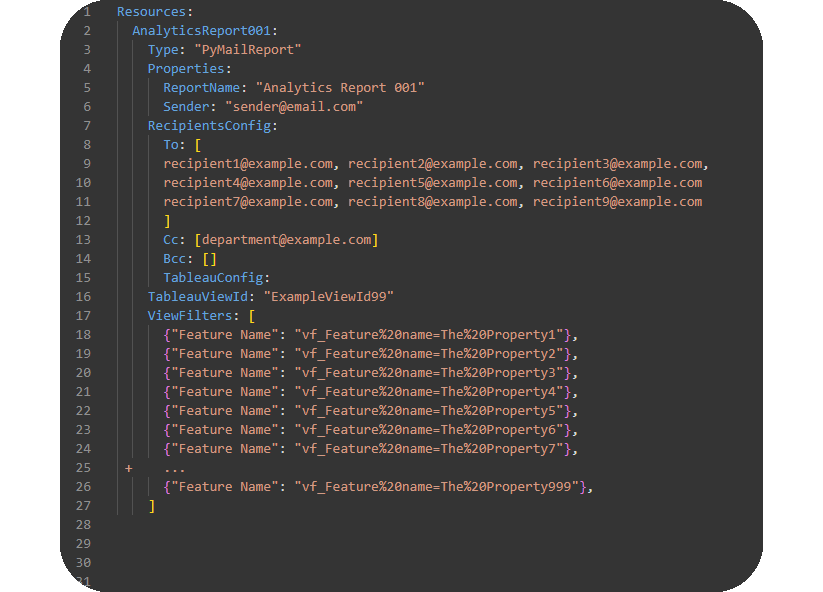 Cloud
Tableau Cloud platform will give you extensive functionality to share, organize and automate your visualizations and we will help you with setup and onboarding.
This includes introduction to main features, demonstrations of useful mechanics, user profile creation, security settings and more.
MIM Group has competence in Tableau Online migration to Tableau Server cluster solution in the private, or public cloud ecosystem.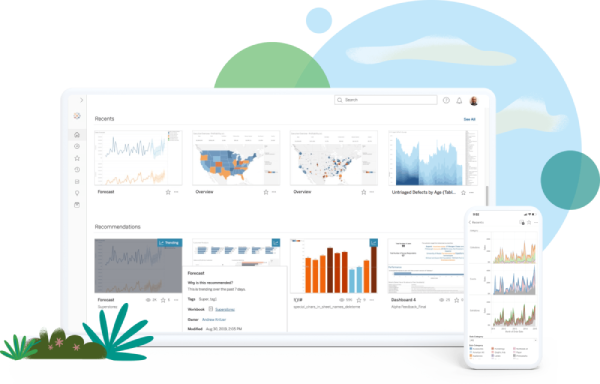 MIM DataPulse
MIM DataPulse is a powerful custom reporting SaaS solution designed to help businesses simplify the process of report production. With the ability to combine elements from multiple sources, this in-house developed tool offers unparalleled customization options to meet the unique needs of any organization.
Selected Features
Unlimited recipients, recipients groups
Combine dashboard images, text, Excel and action links/buttons in the report
Deliver insights through email, MS Teams, Slack or other communication channels
Pre send out validation and criteria check to avoid reporting mistakes and overflow
MIM DataPulse utilizes Tableau (or other BI systems) resources to prepare a custom report with any combination of Tableau sheets and dashboards (as well as other Business Intelligence systems). Ensuring recipients receive exactly the information they need.
With a commitment to expanding its capabilities, MIM DataPulse is the perfect choice for businesses seeking a dynamic, flexible reporting solution.
Big Data
Our systems currently manage a diverse collection of over 50TB of data, which grows by over 100,000 data points per second from various real-time sources.
To maintain data accuracy, we run near-real-time extraction, transformation, and validation procedures continuously. The transformed, validated, and enriched data is then transferred to our analysis servers, connected to our Data Analysis products.
This enables our clients to directly access valuable insights, make informed business decisions, and optimize operations with the help of comprehensive and unified data.
AWS Cloud Infrastructure
MIM Group uses AWS services day-to-day as its core internal infrastructure and infrastructure for clients' solutions.
AWS was selected by our team as a cloud provider leader with a wide range of services at reasonable and predictable prices.

MIM Group's main competence is in "Data World" services – data storage organization Big Data, Data Lake/Warehouse, Data Processing, and Ingestion, as well as real-time data processing and analytics.
Listed services are utilized on a daily basis:
Amazon Athena
Amazon CloudSearch
Amazon EMR
Amazon Kinesis
Amazon Kinesis Data Firehose
Amazon Kinesis Data Analytics
Amazon OpenSearch Service
Amazon Redshift
AWS Data Pipeline
AWS Glue
AWS Lake Formation
Amazon MSK
Amazon EKS